There is a long list of activities more enjoyable than updating a blog, but here goes. A little bit of information that you can probably find elsewhere on the internet already:

We have a new album that will be out within days, entitled "The Light that Dwells in Rotten Wood." We've teamed up with the wonderful Bindrune Recordings, where you can currently pre-order the disc. If you're considering doing so, it's suggested you pre-order it with the new Obsequiae album. You'd save a few bucks and that Obsequiae disc will not only tire out your neck but break new ground in the metal world. Can't wait for it.



PRE-ORDERS ARE AVAILABLE HERE



Very soon we'll have copies of "The Light that Dwells in Rotten Wood" ourselves which you can order by simply emailing us at fallsofrauros@gmail.com

The album was recorded, "produced," and mixed by us in our hometown of Portland, ME. Our good friend and amazing talent Austin Lunn performed and recorded all of the kit drums on this album down in Louisville, KY. He did a wonderful job. No surprises here. The album contains 6 tracks and clocks in somewhere around 44-45 minutes.

Here is the ACTUAL cover art. All sources on the internet right now show the earlier version of the cover, which is reversed. All physical copies will look like this, with a 4-panel panoramic mountain shot extending to the left.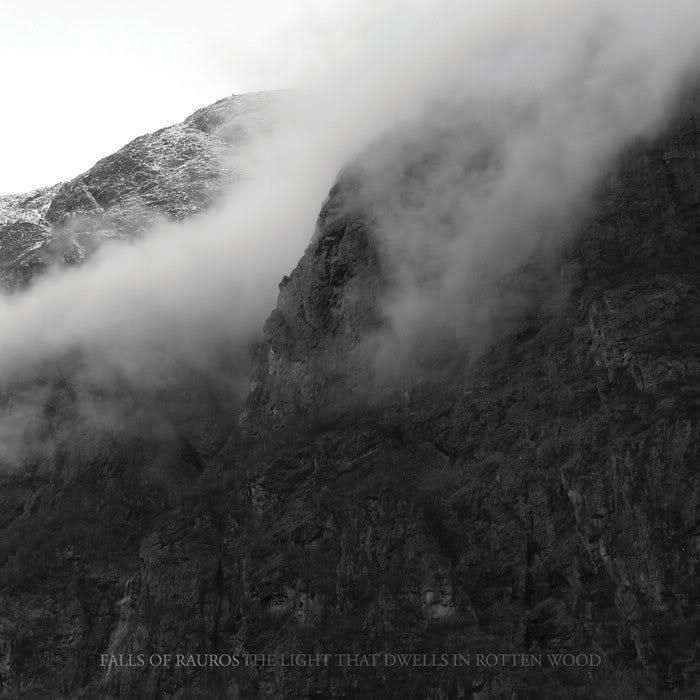 I. Earth's Old Timid Grace
II. Banished
III. Awaiting the Fire or Flood that Awakes It
IV. Nonesuch River Chant
V. Silence
VI. The Cormorants Shiver on Their Rocks

Late in the year there will be a vinyl version, most likely with alternate artwork. More information will be posted as details get ironed out. Be on the lookout! Until next time..